Chrelle Booker is the Mayor Pro Tempore for Tryon, NC, has a full time job in television broadcasting, is a licensed North Carolina Realtor, sits on the Board of Directors of the National League of Cities, Chair of the Information Technology and Communications Committee, 1st VP of Women In Municipal Government, a member of the Legislative Action Committee, and Small Cities Council, all for NLC. Booker was one of eight women from across the USA featured for Women's History Month 2021 in the article " Women in Local Government: Paving the Way, Breaking Barriers & Leading Differently " Booker feels that it is important to give back to society through service, but it is paramount to serve by volunteering with your time, gifts, and talents.
As a member of the National League of Cities, Booker is part of an organization that is the voice of over 19,000 municipal governments: cities, towns, and villages, representing more than 200 million people across the United States, which amplifies the voices of these communities in Washington. Approximately 10.5 million people living in North Carolina and its 532 incorporated municipalities consisting of cities and towns are represented. She was one of fewer than 300 people to write a letter to the Federal Communications Commission asking them to vote in favor of the Emergency Broadband Benefit Program. This program is a $3.2 billion federal initiative to provide qualifying household discounts on their Internet service bills and an opportunity to receive a discount on a computer or tablet. The historic program passed unanimously and is designed to lower the cost of high-speed Internet service for those struggling to get the connectivity they need during the pandemic. This program is currently part of The Infrastructure Investment and Jobs Act (Infrastructure Act), signed by President Biden on November 15, 2021, and established as the Affordable Connectivity Program (ACP). The ACP's funding of $14. billion will modify and extend the Emergency Broadband Benefit Program. Apply Here:
(https://www.fcc.gov/broadbandbenefit)
(https://www.fcc.gov/emergency-broadband-benefit-outreach-toolkit)
Tryon Daily Bulletin Article: Emergency Broadband Benefit
Chrelle worked with NLC's Transportation and Infrastructure Services Committee to showcase the Town of Tryon's water & sewer infrastructure issues as part the Ready-To-Rebuild project to be presented to Congress and the Biden-Harris Administration.
READY TO REBUILD FINAL REPORT
STRATEGIZING FOR CLEAN WATER IN TRYON, NC
This action led to her becoming a panelist on the "Stateside Chat: Small Cities, Big Infrastructure Challenges" with the Center for American Progress. Booker added her signature to a request letter addressed to Majority Leader Schumer, Speaker Pelosi, Republican Leader McConnell and Republican Leader McCarthy along with 400+ city leaders calling on Congress to take immediate action on infrastructure.
Booker attended Congressional Hill Day March 7-10, 2021. Because of COVID-19, the conference was held virtually. Over 350 local elected leaders from 37 states met with 92 Members of Congress and 222 congressional offices to thank federal leaders for their support of the historic legislation, as well as to discuss next steps for recovery and rebuilding our nation. Vice President Kamala Harris announced the administration's new initiative to improve health literacy, equity, and access in under served communities.
(https://youtu.be/JEPmwv2kkNg)
CCC Conference Recap
In 2017, Chrelle Booker was appointed to the Town of Tryon Board of Commissioners one month and ran for Commissioner beginning the next month. She is currently the only female elected to a municipal position in the county. In Tryon's 136 years of incorporation, Booker is the only woman of color to be elected to Tryon Town Council. Since the incorporation of Polk County, NC, in 1855, she is the only woman to hold the position of Mayor Pro Tempore in the county.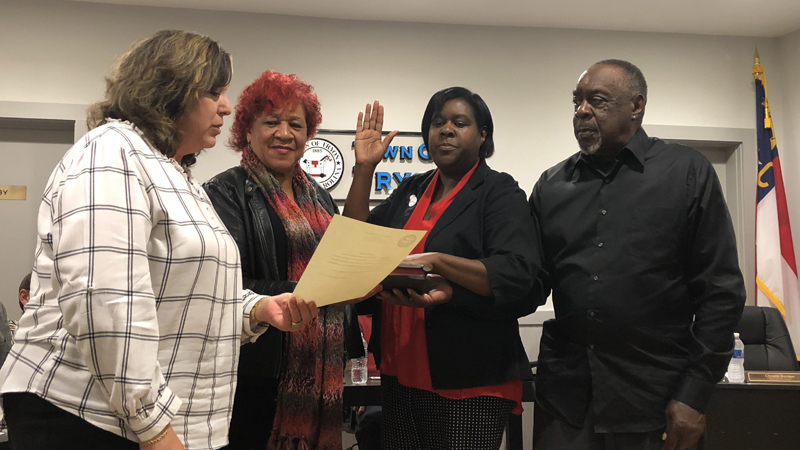 Booker is an award-winning Producer and Director of 3 television humanitarian projects about the people of the Appalachian Mountains and abject poverty. She is WGGS-TV's Human Resources Manager and Dove Broadcasting's Legal Compliance Administrator, reporting to the Federal Communications Commission quarterly. She is the station's Equal Employment Opportunity Compliance Manager, reporting to the FCC yearly. She has hosted "Nite Line", a live unscripted TV studio production. She has also worked as Production Manager, Creative Services Director, and Director of Editing. In the early part of her career she worked as a morning drive news personality for WNCW in Spindale, NC, broadcasting local content, NPR programming, and engaging with the listening audience.
Chrelle Booker is a North Carolina Licensed Broker/Realtor with Cielo Real Estate. She is an Independent Contractor, a member of the Hendersonville Board of Realtors, the NC Association of Realtors, and the National Association of Realtors.
Chrelle has an Associate of Applied Science in Radio/Television Broadcasting Technology from Isothermal Community College and is a member Phi Theta Kappa, the National Dean's List, and Who's Who Among American Junior Colleges.
Booker is the daughter of Clemon and Odessa Booker, the aunt of several nieces and nephews including a Chicago White Sox draft pick, baseball player Joel Booker, and an active member of St. Luke CME Church in Tryon, NC. Booker said that when growing up, her parents had a profound life-enhancing impact on the lives of her siblings and herself, and that whatever space or room they occupied, they were to be mindful of their purpose and intentions. Mr. and Mrs. Booker expressed to their children that they weren't better or less than any other humans and never taught them to be focused on the other occupants of the spaces or rooms they were occupying in the form of race, ethnicity, or gender; only to be purpose driven. Until this day, Chrelle occupies with purpose and intention. She is grateful that her parents didn't sow seeds of disdain and poison for other humans. We are to be each others' support during our short time on Earth.
For Booker, every day is Father's Day and Mother's Day. Although she loves and has been blessed with two great parents, she insists that she and her siblings have the greatest father who have ever graced Earth, and that he has always been the family's provider and protector! She once had a billboard erected for her parents; just because.